ABOUT
---
Columbian Autocar Corporation (CAC), the assembler and exclusive distributor of Kia vehicles in the Philippines, was incorporated in May 1994. Its mission is to respond to the transport needs of the country by providing a wide selection of world-class vehicles, judiciously chosen to meet the various demands of the dynamic automotive market. It was in 1996 that Columbian Autocar Corporation found itself in the No. 4 spot in the Philippine automobile market.
CAC first participated in the Car Development Program of the government and introduced the first ever "People's Car" – the Kia Pride, that generated tremendous and favorable reviews in the market.
To date, CAC has 39 dealerships nationwide. Its wide dealer network assures unrivaled after-sales customer service and satisfaction designed after its philosophy called, 'Family-like Care'.
In June 2009, CAC achieved the unprecedented by extending the warranty protection of its manufactured vehicles to five years or 160,000 kms (whichever comes first) from the usual 3 years or 110,000 kms, making its auto protection coverage the best and the longest in the industry. By standing behind its products for a longer period of time, Kia not only breached the industry standard but also reinforced its claim that its vehicles are as good as any available in the market today, if not better. CAC also introduced Kia's 24/7 Customer Assistance on Roadside Emergency (C.A.R.E) in 2012. It is a 24-hour vehicle support program exclusively for Kia customers that offers assistance such as flat-tire change, emergency towing, battery jump start, and fuel delivery service.
In its continuous pursuit of excellence, CAC has received Kia Motors' Elite Zenith Club distinction in 2007, 2008, 2009, and 2015, thereby establishing itself as Kia's foremost distributor in the Asia Pacific region. Furthermore, CAC was given worldwide recognition and named the Distributor of the Year for the Asia-Pacific Region in 2011 for the highest degree of professionalism and best overall sales performance.
MISSION
---
The Columbian Autocar Corporation seeks to respond to the transport needs of the country by providing a wide selection of world class vehicles, judiciously chosen to meet the various demands of the dynamic automotive market.
We shall forge lasting relationships with our foreign and local partners to guarantee the maintenance of our business and to ensure the continuous transfer of technology for our healthy existence.
We shall employ only the most competent team of professionals driven by unwavering commitment to satisfy our customers.
We shall remain responsive to the customers we cater to by assuring them a high level of service that stands ready anytime it is called.
We shall do all these in an atmosphere that promotes innovation while instilling discipline, hard work and team spirit. We further instill in each of us that the achievement of one is a victory for all.
VISION
---
To manufacture and supply a full range of quality automotive vehicles with a comprehensive parts and service offering, with the goal of providing great value to our local customer base and increasing the profitability of our partners.
COMPANY PROFILE
---
Name of the Company: COLUMBIAN AUTOCAR CORPORATION
Date Incorporated: MAY, 1994
President: ELENA MARI GINIA R. DOMINGO
Office Address: 6/F PACIFIC STAR BUILDING, MAKATI AVE., COR. SEN. GIL PUYAT, MAKATI CITY
Plant Address: LAGUNA INTERNATIONAL INDUSTRIAL PARK (LIIP). BO. MAMPLASAN, CITY OF BIÑAN LAGUNA
Main Business: MANUFACTURER / IMPORTER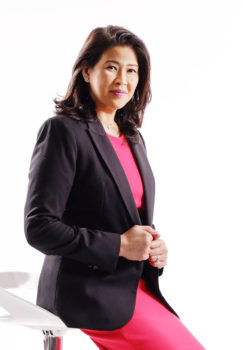 ELENA MARI GINIA R. DOMINGO, President of Columbian Autocar Corporation (CAC), epitomizes the new phase of Kia's expansion into the mainstream consciousness of the Filipino car buyer.
One of only a handful of women who currently lead a local automotive company, she has taken on the daunting challenge of uplifting the Kia brand towards being a top player in the Philippine car industry.
Harboring more than 20 years of operations experience with various global automotive brands in the areas of General Management, Marketing, Sales and Finance, she has amassed a wealth of knowledge enough to drive and steer CAC forward in its efforts to reach out to a bigger and more diverse target market. Since her appointment in 2011, Kia has exceeded its growth expectations with global supply struggling to keep up with actual demand.
By practicing a management style that is fresh and exciting, yet meticulous at the same time, her presence has transformed Kia into a dynamic and stylish marque that its current modern designs evoke. Her unyielding efforts to further build the brand through the improvement of CAC's sales supply, the strengthening of its dealer network and the enhancement of its Aftersales support and customer relations have established a new order for the Korean brand in the Philippines.
With a light heart, as only a caring mother of two can champion, and a level of professionalism and maturity skillfully honed through the years, she now leads Kia towards the fulfillment of its brand promise to surpass customer expectations through continuous automotive innovation.
PRODUCTS
---
Website: www.kia.com
Facebook: www.facebook.com/kiainthephilippines